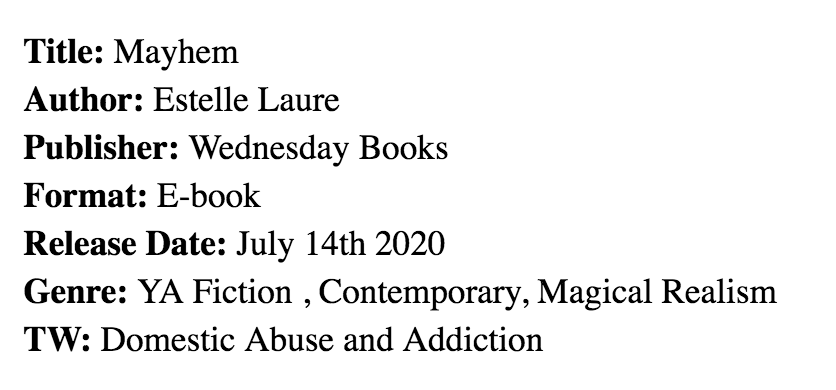 Goodreads | Amazon | Barnes and Noble
A YA feminist mash up inspired by The Lost Boys and The Craft.
It's 1987 and unfortunately it's not all Madonna and cherry lip balm. Mayhem Brayburn has always known there was something off about her and her mother, Roxy. Maybe it has to do with Roxy's constant physical pain, or maybe with Mayhem's own irresistible pull to water. Either way, she knows they aren't like everyone else. But when May's stepfather finally goes too far, Roxy and Mayhem flee to Santa Maria, California, the coastal beach town that holds the answers to all of Mayhem's questions about who her mother is, her estranged family, and the mysteries of her own self. There she meets the kids who live with her aunt, and it opens the door to the magic that runs through the female lineage in her family, the very magic Mayhem is next in line to inherit and which will change her life for good. But when she gets wrapped up in the search for the man who has been kidnapping girls from the beach, her life takes another dangerous turn and she is forced to face the price of vigilante justice and to ask herself whether revenge is worth the cost.
Rating: ⭐⭐⭐
DISCLAIMER: I received this E-ARC from Wednesday Books in exchange for a review. All thoughts are my own and are not intended in any way to hurt anyone's feelings or offend the author.
When I first got the email about Mayhem, I wasn't entirely sure I was going to read it. It has a lot of elements that I love (I mean magic and murder? Count me in) but I wasn't sure if I was going to find the time to read it. I'm so glad I did. I probably binge read the second half in two days which if you know me is very fast- especially when I'm reading an ebook.
I liked it. I didn't love it – that's why it didn't get four stars or five – but I liked it. I don't feel strongly about any of the characters except for Lyle who is a piece of trash. When you read the book, you'll see what I mean. I liked Elle. I also liked Mayhem. Neve is probably the most interesting character. I can't say why because I believe I would be spoiling the book so I'll mention that in the spoiler section.
I'm gonna be honest- I was pretty much neutral about everything. Although I have not experienced it myself, I thought the domestic abuse was portrayed well. I genuinely felt for Roxie and Mayhem. I also didn't mind the romance between Mayhem and Jason. I was skeptical about it in the beginning because romance usually dilutes the main plot but I thought it was a cute add on. I like Jason. There's one more thing I liked but it counts as a spoiler so I'll talk about it in a minute.
Before I move on though – what kind of person names a character Boner?? He was a good character but that name was questionable. I couldn't take any scenes with him seriously because of the name. Now…onto the spoilers.
My favorite scenes were when Mayhem was reading the diary and when she was using her powers. It was during those parts that I wanted to keep on reading. The whole book is well written- those scenes just had something extra about them.
And why is Neve the most interesting character? I will say I didn't understand the whole "water makes non Brayburns crazy sort of thing" but I liked how Neve was an example of it. I think that alone would have made the book very interesting especially since the Sand Snatcher (at least I think that's what he's called) took a backseat after he was killed. Unfortunately the plot didn't take the dark turn I wanted it too. It ended with a lot of loose strings. Like why and how did Neve suddenly become not crazy? Did they all just live happily ever after? Even after all that magic stuff?
Like I said. Good, but not great. If you're interested in reading it, I would still recommend Mayhem to you; it just wasn't exactly a top ten read for me.