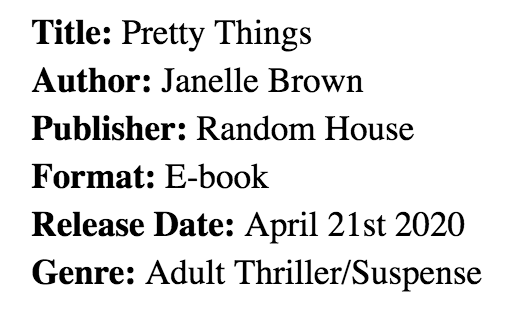 Goodreads | Amazon | Barnes and Noble
Nina once bought into the idea that her fancy liberal arts degree would lead to a fulfilling career. When that dream crashed, she turned to stealing from rich kids in L.A. alongside her wily Irish boyfriend, Lachlan. Nina learned from the best: Her mother was the original con artist, hustling to give her daughter a decent childhood despite their wayward life. But when her mom gets sick, Nina puts everything on the line to help her, even if it means running her most audacious, dangerous scam yet.
Vanessa is a privileged young heiress who wanted to make her mark in the world. Instead she becomes an Instagram influencer—traveling the globe, receiving free clothes and products, and posing for pictures in exotic locales. But behind the covetable façade is a life marked by tragedy. After a broken engagement, Vanessa retreats to her family's sprawling mountain estate, Stonehaven: a mansion of dark secrets not just from Vanessa's past, but from that of a lost and troubled girl named Nina.
Nina's, Vanessa's, and Lachlan's paths collide here, on the cold shores of Lake Tahoe, where their intertwined lives give way to a winter of aspiration and desire, duplicity and revenge.
Rating: ⭐⭐⭐
DISCLAIMER: I received this E-ARC from Netgalley in exchange for a review. All thoughts are my own and are not intended in any way to hurt anyone's feelings or the author.
Thoughts: Although I wouldn't put this book on a favorite list, I did enjoy it. The characters Vanessa and Nina are for the most part well done but during the middle their relationship was difficult to read about because they were judging each other over something that could've easily been fixed. Honestly, it wasn't until later in the book when I learned more about both of them that I began to like them because at the beginning Nina was judging Vanessa based on her lifestyle and Vanessa couldn't put together the dots.
Of course, Vanessa and Nina aren't the only characters in the story. There's also Nina's mother, Lily, her partner/boyfriend Lachlan, Vanessa's brother Benny, and then Vanessa's parents who are mentioned more than they show up in the book. Benny was probably the only character I liked (or semi-liked) the entire book because I did empathize with him and his situation. I didn't have many opinions of Vanessa's mother who I felt was more there for backstory than to be a character. I hate Vanessa's dad, but I think we're supposed to hate him for reasons that just keep piling up as the book goes on. As for Lily, I did like her for most of the book. She was a single mom taking care of her daughter while also battling cancer- it was hard not to like her- then certain events happened.
I can't elaborate much more without spoilers so I'll continue on to the plot. The beginning was great. I mean the first line of the book – "When a body goes down in Lake Tahoe, they say, it does not rise again" was everything I could ask for in a first line. It was shocking, it grabbed my attention, and made me ask a lot of questions. Frankly, I'm sad I can't use it for one of my stories because it is so good! The ending was great too. There were so many twists that I didn't anticipate and I loved that. It was the middle that got me. The backstory was important to the story, but I felt the middle didn't have enough action – at least for me it didn't. I also felt the book got a little preachy about social media. It involves social media (for crying out loud Vanessa is an Instagram influencer!), so I understand there's gonna be some commentary about social media but there were a lot of times where a character just went off.
When Vanessa and Nina got over their differences and began working together against Lachlan (or Michael but I'm calling him Lachlan because that makes more sense to me) I was ecstatic. When Vanessa started saying how she was going to steal Nina's guy and then was poisoning her drink to get more time with him, I genuinely thought their relationship would turn out to be one of those cliches "pit the girls against each other" things. I'm relieved it wasn't.
Now for the twists. There was one twist that got me and it was that Lily had had an affair with Vanessa's father which was the reason they had to leave Tahoe City. The clues were all there and when the reveal happened I had to stop reading for a second to just sit in awe of what had just happened. I lived for that. As for the others… they felt bizarre. I didn't see them coming at all but couldn't figure out where the warning signs were. They felt random. Lily working with Lachlan to keep Nina in the dark or Lily pretending to have cancer later on just didn't add up. I don't think the plot needed either in order to have a great ending. If anything, I feel the ending would be better if it didn't have that along with it.
My opinions aside, this is still a book you should go out and buy. If you like thrillers and drama (I feel this book has a lot of that) this is the one for you. The links to get it today are above the synopsis.