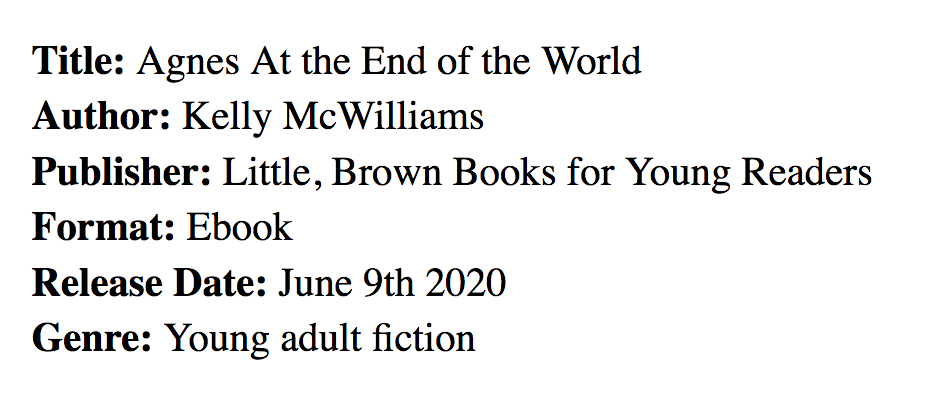 Goodreads | Amazon | Barnes and Noble
The Handmaid's Tale meets Wilder Girls in this unique, voice-driven novel from Kelly McWilliams.
Agnes loves her home of Red Creek–its quiet, sunny mornings, its dusty roads, and its God. There, she cares tirelessly for her younger siblings and follows the town's strict laws. What she doesn't know is that Red Creek is a cult, controlled by a madman who calls himself a prophet.
Then Agnes meets Danny, an Outsider boy, and begins to question what is and isn't a sin. Her younger brother, Ezekiel, will die without the insulin she barters for once a month, even though medicine is considered outlawed. Is she a sinner for saving him? Is her sister, Beth, a sinner for dreaming of the world beyond Red Creek?
As the Prophet grows more dangerous, Agnes realizes she must escape with Ezekiel and leave everyone else, including Beth, behind. But it isn't safe Outside, either: A viral pandemic is burning through the population at a terrifying rate. As Agnes ventures forth, a mysterious connection grows between her and the Virus. But in a world where faith, miracles, and cruelty have long been indistinguishable, will Agnes be able to choose between saving her family and saving the world?
Rating: ⭐⭐⭐⭐
DISCLAIMER: I received this E-ARC from Netgalley in exchange for a review. All thoughts are my own and are not intended in any way to hurt anyone's feelings or offend the author.
As soon as I saw Handmaid's Tale meets Wilder Girls at the top of the blurb, I knew I wanted to read this novel. I will say though, the rest of the blurb is accurate but I didn't really get Handmaid's Tale or Wilder Girls from this book. Both are much darker books for one thing although there are a couple of references to the Handmaid's Tale in regards to the strict rules the girls have to follow and the fact that they can't wear red (the color that the Handmaids in Atwood's novel are notorious for wearing). The similarities stop there.
Onto the novel itself, I thought it was interesting. I wanted to keep reading to find out what happened to Beth and Agnes as the situation with the cult and the Virus outside grew more intense. Both main characters are strong women who know what they want despite the conflict over where they stand in their religion. The religion is one aspect of this book that McWilliams does well and throughout the entire plot I could see and feel the struggles both girls were having in this strange world.
I liked the side characters (although I may or may not have mixed up Agnes's nickname for 'Zeke' with Max.) I saw a lot of Danny but I wish I saw the romance between him and Agnes more or the one between Cory and Beth. I know that it wasn't necessary with Agnes because the book is focusing on her and her religion but I think Cory and Beth's relationship could've added even more to the plot.
At first, the suspense was killing me. As soon as I learned Ezekiel's situation with the insulin, I was nervous for him so I guess I wasn't surprised when all of it broke and his life was at risk. I think him surviving was the only event I didn't expect to happen. Come to think of it, so many lives are miraculously saved throughout the book. Now that I think back on it, I guess that is the point because it is about God being kind and miraculous but also ruthless as well. Honestly the main problem I had was that everything was a little too convenient for the characters. I mean, I thought for sure Agnes was going to die but then Danny saved her. Same thing with Beth. I knew she was going to get out because I was only about a third in, but still Magda was right about to go at her and Cory grabs her and helps her escape out of the bunker.
I do like the ending. I like how Agnes is now a prophet of this ragtag group of survivors and Danny is a doctor and that Beth is going to see the world. It was a good way to end it I think.