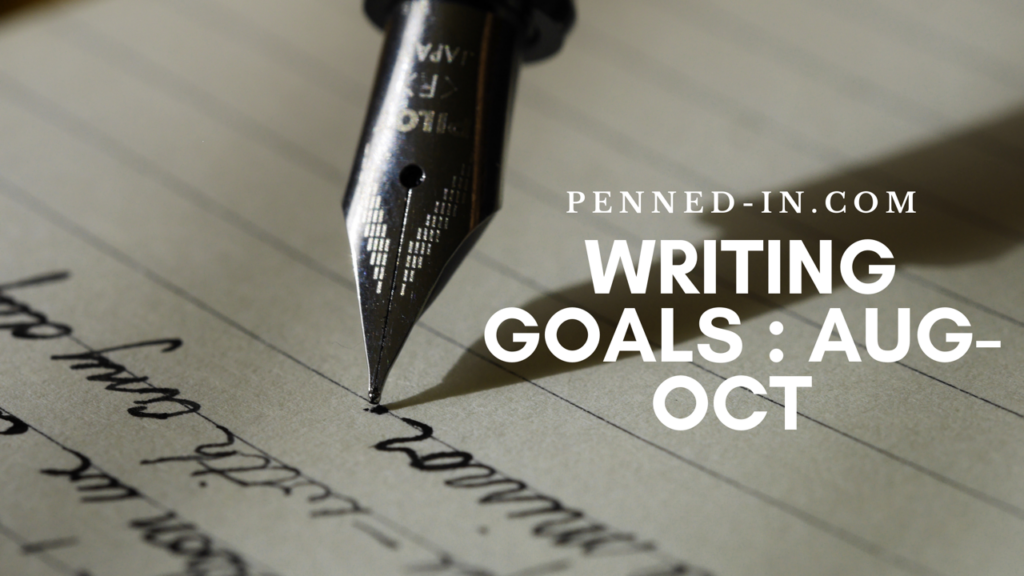 In attempts to hold myself accountable, I am creating some writing goals for August – October. They are ambitious considering how busy I'm going to be once school starts but maybe I'll end up surprising myself! I have 10 goals total. I'll consider this quarter a success if I can complete 7/10.
Without further ado, here are my goals for August through October!
Outline fantasy novel draft : I've been thinking about this outline for weeks now. Everytime I have gone to draft so far, the perfectionist in me has pointed out some obscure worldbuilding that I need to figure out or I go down a rabbit hole of types of outlines to use. If I am to succeed, I have to quit thinking about details and simply come up with the events that I want to happen in my draft. 
Write and submit Heroes retelling to anthology : I probably shouldn't be working on this….I'm going to be busy enough as it is but as soon as I saw the posting I couldn't stop thinking about what I would write and well….I'm sure you can guess the rest. I have about two weeks until school starts. If I am to succeed, I'll need to create a polished-ish draft of my story by that time. 
Finish dream short story : So far I'm still on rough drafts for this one. I have a fairly solid idea of where I want to go with it and the scenes have been fun to write so far! By finishing I mean a story with clear characters and plot that could be submitted to a magazine with some edits. 
Blog once a week :  I think this one is pretty self explanatory 
Write reviews for ARCs : Earlier this summer, I went a little too trigger happy with the "request ARC" button on Netgalley. Now, I need to review those books. 
Draft two new short stories : I came up with this one because I have so many story ideas that haven't been written. Who knows, maybe once I write them I'll be able to post them on my website!
5K words into fantasy novel : This adds more motivation to finally outline my fantasy novel! Since I'm starting out with this draft, I need to just get the words out and that is exactly what I hope to do (hence why it's a goal.)
Come up with a title for fantasy novel : Unfortunately I can't just keep calling it 'fantasy novel' especially since I plan on writing more fantasy novels in the future. That would be nice though. 
Watch Brandon Sanderson's Youtube lectures : Along with writing, I have been trying to learn more about the craft and who better to learn about fantasy than Brandon Sanderson? 
Write script for podcast episode 4 & 5 : The earlier I do this, the less stressed I'll feel about my podcast so here it is on my list of goals! 
Bonus – College essays : I'm starting senior year of highschool which means it's time to apply to colleges. This is less of a goal and more of a "have to do because my future depends on it" sort of thing. Because I can't stop thinking about it (and neither can the rest of my family) it's going on as a bonus. Besides, if I don't complete any of my ten goals, at least I'll know this one will be accomplished. 
That's it for my goals! If you have any goals for this quarter comment below! I love hearing what other writers are working on.